Your One Stop Shop for ATV - UTV Accessories!
If you own an ATV or UTV, you have most likely chosen the very best ATV for your needs. Now it's time to choose the very best in ATV - UTV Accessories. That is where Montana Jacks can help.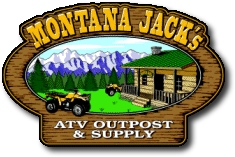 WARN Authorized Distributor, Cargo Boxes, Gun Boots, Racks, Lighting, Full UTV Cabs, Hunting and Outdoor Accessories. We serve the Flathead Valley, the entire United States and Canada.

In addition to thousands of name brand accessories, we also have some products that are exclusive to Montana Jacks such as our QuadSkidder, which will permit you to drag heavy logs across any terrain.
The best selection of ATV - UTV Accessories
From ATV cargo boxes, handlebar warmers, winches and tires to trailer hitches, lighting, fuel & water flat packs, cabs and snow plows, we have what you need.