2018 NW Montana Fair & Rodeo
The Northwest Montana Fair & Rodeo is an annual tradition of Flathead residents that has been going on for over 100 years. It happens each year in August with three nights of PRCA Rodeo action, huge concerts, carnival rides galore, fun for the whole family and great food.
Don't miss the 2017 NWMT Fair!
Happening this year August 17 through 21, 2016; other fair highlights include great local talents on stage, the fair parade in downtown Kalispell, livestock show and sale, and more than 100 commercial exhibitors.
Gates Open at 6pm daily and the rodeo action starts 7:30 pm featuring Kesler Championship Rodeo Stock, Mutton Bustin, and Relay Races.
Giant Demolition Derby  – Sunday, August 20th.
Gates Open at 5pm – Crashes start at 6pm! Tickets for the Demolition Derby are on sale now, go here to get your tickets.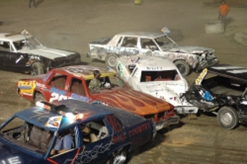 More than 6,000 exhibits
The heart of the NW Montana Fair is more than 6,000 exhibits showcasing the interest, talent, and passion of our regional residents. From quilts to mini-horses, floriculture to rabbits, you're sure to experience blue ribbon displays throughout the fair.
Dates:            August 16 – 20, 2017  (check schedule for pre-event information and times)
Hours:          10:00 AM to 10:00 PM daily.   Some barns and exhibit buildings close at 9 pm
Admission:  $7.00 Adults (13-65), $4.00 Seniors (65+), $4.00 Child (6-12)  Under 6 is free.
Special Days and Discounts:  Grandstand tickets when purchased and printed before arriving at the Fair is your gate admission!  Saves up to $7.00!  Simply show the gate attendant your pre-printed ticket and you're ready to Celebrate Montana's Best!
Thursday, 8/17 is Seniors and Kids McDonald's Day with free admission for guests 65+ and 12 or under all day!  In the RSVP Rest Area seniors can purchase a $10 general admission rodeo ticket.
We appreciate and recognize our current military personnel and veterans on Friday, 8/19.  Show current or retired military ID at South, Meridian, or North gates and receive free admission along with a general admission rodeo ticket and a $5 food voucher. Limited supplies until those tickets are gone.  Thank you for your service.
Purchase $50 in Wrangler Western Wear at Murdoch's or Western Outdoor before coming to the Fair and receive a voucher for a free rodeo ticket, redeemable at the Fair Office.
Join us for NBC Montana Family Day, Sunday, August 20th.  Special Family admission for 2 adults and 2 children of only $11!  Brought to you by your friends at NBC Montana Broadcasting.
Advanced Sale Admission Tickets:  Admission tickets may be purchased in advance for only $4. This saves you $3 off an adult ticket at the gate!  They are available at all six branches of Whitefish Credit Union through Friday, 8/18th only.  Tickets will be available about 4 weeks before the annual Fair.
Grandstand Shows:  5 full nights of great entertainment to thrill all interests. Reserved seating and general admission tickets are available online at the Tickets and Grandstand page.
Reserved seating prices are as posted with no Senior or Child pricing available in this section.  2 years and under, sharing the parents seat in reserved section are free.  Discounted seats for Child (3 year to 12 years) tickets is offered only in General Admission sections.
Print your ticket before coming to the Fair, show it at the Fairgrounds gate and that's your admission – save $4 to $7!
Parking:        $5 per vehicle, per entry (no return privileges)
Carnival:       Advance sale POP tickets are on sale at CHS Country Store 120 W. Idaho St, all Whitefish Credit Union Branches, and the Fair Office from July 24th until 5 pm August 15th.  Price is $25 in advance and is exchanged at the Carnival Ticket booth for the 1-day wristband.  The POP ticket allows for unlimited rides any one day (except the G-Force and Vertigo rides).  Beginning August 16th, the POP wristband may be purchased at Carnival ticket booths inside the Fairgrounds for $30 each.
The carnival will open each day: Wed – 8/16  at 3 pm, Thur – 8/17 at 12 noon, Fri – 8/18 at 1 pm, Sat – 8/19 at 12 noon, Sun – 8/20 at 12 noon.
Entries:         The entry process will open with the release of the Fair Books in late May. Visit the Fairbook page for on-line entries, rules and classes of each department and more details.  The entry deadline is Monday, August 1st at 4:30 pm for all departments except Floriculture, Dahlia & Gladiolus, and Ag/Horticulture.
Want to Participate?  Check out the forms page for all your entry forms & information– Parade, Relay Races, Power Wheels, and even the Demolition Derby!
Didn't answer your questions? Please let us know if we can help further with any of your questions.  Call us at 406-758-5810 or stop by. Our goal is for your fair experience to be outstanding.