Buy Local
Buy Local
Buy Local Flathead Products and Services
There are many reasons why the phrase "Buy Local" became so popular in the past few years. While the USA was experiencing the worst economic downturn since the Great Depression of the 30s, people began to realize that buying local and supporting local businesses just made good economic sense. Locally owned independent businesses return approximately 80% of each dollar spent back to the community, and that is a powerful motivator.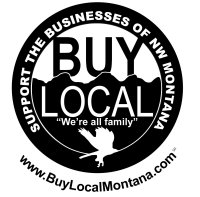 Many communities across the country launched such awareness programs to educate the buying public as to how important this was. The owner of this Flathead Valley Business Directory was one of the three founding members of "Buy Local Flathead" in 2009.
What do these local businesses know that you don't?
Valley Ford, J2 Office Products, Blind Man Window Treatments, Cold Stone Creamery, Great Northern Dental Care, Americas Best Value Inn, Flathead Lake Fishing Charters, Morgan Photography and scores of other local businesses know how important it is to buy local and focus their marketing efforts locally. That's why they have added their companies to the Flathead Guide.
Buy local Flathead products and support our hometown businesses. Your neighbors, friends and family members work for or own a local business. When you shop local and keep your dollars in the local economy, you are helping the people who mean the most to you.
To reach local customers, get listed in the Flathead Valley Business Directory and spread the word.