If your website is not mobile-friendly, you are losing business!
Did you know that today, roughly 25% of your online visitors are trying to view your website on a smartphone? That number is projected to skyrocket between now and 2014 as smartphones will become the #1 access device to the Internet – more than desktops and laptops!
Take action and improve your bottom line!
Most businesses were not ready for this. Few people were talking about "mobile websites" just a year ago, yet today we find out that a large percentage of our visitors are using their mobile phones to access our website. That's one in four potential customers looking for you on their phone.
Due to our tremendous tourist traffic here in the Flathead, it is even more critical that our websites are smartphone-ready because our visitors are not dragging their laptops with them. The mobile websites at right are a few examples of the many sites we have created for local clients. If you want to maximize your traffic and increase sales, get in touch with us today.
Consider these other mobile web facts…
50% of U.S. cellphone users have smartphones
By 2014, mobile internet is predicted to take over desktop internet usage
Mobile barcode scanning increased 1,600% in 2010
25 percent of consumers engage in online shopping only via mobile
55% of mobile owners access mobile web
57 percent of consumers will not recommend a business with a poorly designed mobile site. Similarly, 40 percent of consumers will go to a competitor's site after a bad mobile experience
Sixty-five percent of mobile users said they used their mobile device to find a business to make an in-store purchase
64% of smartphone owners are now using their mobile devices to shop online
64% of affluent app users say they view brands with mobile apps more favorably
eMarketer estimates that there will be 115.8 million smartphone users in the US by the end of 2012, with that number growing to 176.3 million by 2015
66% of US smartphone owners use their phone to aid in shopping
47% of consumers confirm they use their smartphone to search for local information, such as information about a local store they want to visit
74 million consumers in the United States already shop from their mobile devices
Consumers are 51% more likely to purchase from retailers that have mobile-specific websites
78-84% of consumers now rely on their social networks when researching new products
Why you really need to solve this problem ASAP
Imagine if someone stood outside the door to your business and blocked every fourth person from entering. That is what could be happening with your online visitors. If they can't access your website conveniently, they hit the back button. Losing 1 out of 4 customers could kill most businesses.
Get a smartphone-ready website – Search Engine Optimized – Socially Primed!
Okay, so you now recognize what's happening and know you need to do something. Launching a mobile website that is compelling to your visitors is only part of the equation. An equally important component is making your site search engine-friendly so that you can attract targeted visitors to your site 'organically'. THAT is the tricky part and if that (SEO) piece is missing…. your website is invisible to Google. Our mobile-ready solution includes custom SEO on all mobile pages.
Oh, did I mention that my company has been doing search engine marketing (SEM) and SEO since the last century? In fact, in 2010 I wrote the book called the "SEO & Social Media Marketing Guide".
The Webunet Group can build a custom, search engine optimized, mobile-ready website for you! We can get everything we need from your existing website and turn around your project usually within a week. We (or your webmaster) will add a "Browser Re-Direct script" to your website that will automatically send smartphones to your mobile site. A few of the features you'll have include: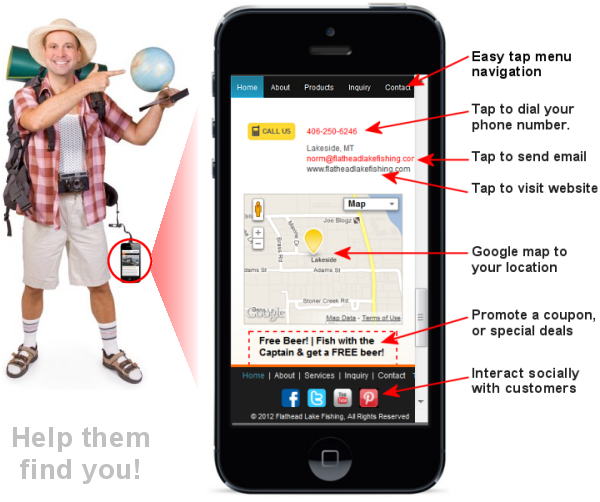 The best news is that we can do all this for only $350. But wait… if you are a Flathead Valley business, you can save $100! Learn how to save big below…
THE 2014 Marketing Solution for Flathead Valley Businesses
Our solution to your mobile marketing opportunity is to provide two resources focused on capturing smartphone traffic. Plus, if you accept our combined offer you can save $100 of the total package cost – and be smartphone-optimized in a matter of days!
First, we will create and install your custom mobile-ready website. Your mobile site will be search engine optimized and provide all the basic information about your business such as hours of operation, products/services, all contact information, etc. It will include a Google map to your location, phone numbers that dial your phone when tapped and other custom features.
Secondly, add your business listing to the new 'Flathead Guide' and leverage this unique linking opportunity. This will essentially create another (stand-alone) smartphone-optimized website for your business from a local authority website. Both of these additions can also help your primary website improve in search results.
Save $100
If you choose to list your business in the 'Flathead Guide' we will slash $100 off the cost of building and installing your mobile website. In addition, we will be marketing the Flathead Guide daily to attract visitors and capture search results. Our marketing efforts will include:
Announce your new listing on Facebook and Twitter
Promote the Flathead Guide on all major social sites (Facebook, Twitter, Google+, YouTube, etc.)
Strategically timed Press Releases – ongoing
Obtain tactical links from other authority sites
Blog about the Flathead Guide and feature local businesses from the Guide
This isn't an advertising buy – it's an ongoing, daily promotional campaign. The Flathead Guide directory will capture many of those mobile searches and show them your mobile-optimized information. Even if you don't have a mobile-ready website, people can email or call your phone directly from your listing without ever visiting your website.
"A rising tide lifts all ships"…our efforts to promote the Flathead Guide and attract targeted traffic means that more people will be introduced to your business.
Get listed – get found – get more sales!
All of the smartphone-optimized websites above are examples of what we can do for your business. The Webunet Group created these websites for local clients and we would love to build a custom, search engine optimized, mobile-ready website for you, too!
2014 Flathead Guide / Smartphone Special Offer!
If you want to get started, or need more information, send us a quick heads-up and we'll get back to you ASAP!