Is your website lost?
Mindboggling statistics - the number of registered domains are 350,000,000 with at least 3.64 billion pages. And you wonder why you can't attract traffic to your website?
Meet the Webunet Group
The Webunet Group is a search engine optimization and social media marketing company. Over the years, our client list has included companies as diverse as Virgin Records, Frito-Lay, The Texas Rangers MLB, TV and professional sports personalities, but our emphasis has always been small businesses. We have helped many Flathead companies leverage the Internet and maximize the effectiveness of their web marketing. From Realtors, dentists, plumbers and hotels to lawyers, non-profits and fishing charters, we have made a difference for scores of NW Montana companies.
We can help you increase traffic to your site
There are only two ways to get traffic online; ATTRACT IT (using SEO), or BUY IT (using PPC). Both have the same objective; to drive traffic to your website!
What's the difference between SEO and PPC?
Search Engine optimization (SEO) is a process performed on website pages and off-site properties such as Facebook, Twitter, Pinterest, Squidoo, etc. Your web pages and images are fine-tuned and reformatted so that they appeal to the methodology search engines use to determine a site's 'value' for a given topic. In other words, SEO makes your site stand out from competitors in the same niche.
"Pay-Per-Click" (PPC) is a clever method of advertising where you pay only when someone searches using your precise keywords and clicks on your ad. As an example, you have a plumbing company in Kalispell Montana and you chose the keyword phrase, "plumber, kalispell". The only time your ad will appear in search results is when someone searches using those exact keywords or phrases. If they click your ad, you pay the price you bid for those keywords or phrases (i.e. $0.05 - $1.00 per click or more).
SEO is forever!
Once SEO is executed on your site, it continues to work for you virtually forever. Webunet has been involved in search engine optimization for over 10 years and has a proven track record. A properly optimized website can attract hundreds or even thousands of visitors daily with no ongoing costs. However, it takes time to see results from an SEO project; sometimes as long as a few months, but the results can last indefinitely.
Pay-Per-Click (PPC) is a highly focused advertising program where the only costs you incur are when someone clicks on your ad. Better still, you can choose to advertise only in a specific geographic areas such as a 20 mi. radius of Whitefish, Montana. PPC is the ONLY type of advertising that can put your ad in front of a ready-to-buy shopper at the exact moment they are ready to make a purchase. A pay-per-click campaign returns immediate results because you are paying to display your ad during keyword searches. Combining both programs offers the best ROI delivering immediate results and long-term benefits.
The Doctor will see you now...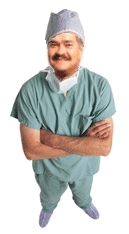 Meet "Dr. SEO", Webunet's resident search engine optimization specialist. The doctor (a.k.a Tom), has been in the Internet business since 1992 and he knows the difference between what really works online and what is hype. The "SEO Dr." also specializes in teaching small business owners and professionals how to take control of the overwhelming aspects of online marketing and social media to foster new business relationships and maximize profits.
Tom is the former President (co-founder) and COO of Opinioneering Corporation. He served as President of Netcom Interactive where he piloted it to become one of the largest Internet hosting companies in the world. Prior to Netcom, Tom co-founded PICnet, one of the first ISPs in the nation (which was acquired by Netcom in 1995). Tom is an experienced Internet marketing and SEO professional and the author of the book, "The Complete Small Business Internet Guide" and more recently, "SEO & Social Media Marketig Guide". Tom is a search engine optimization specialist and personally manages all Webunet SEO projects.
In addition to his book, Tom has authored numerous articles about Internet technology and marketing related elements of the Internet. He has been interviewed on TV (Bloomberg TV, CNBC, PBS), national and local radio, and extensively in print; including The Wall Street Journal, PC World, Computer Currents and Business Strategies Quarterly. Tom has been invited to speak at a variety of industry conferences and seminars on many occasions, including such diverse groups as:
NAB (National Association of Broadcasters)
CTIA (Cellular Telephone Industry Association)
Chambers of Commerce (numerous)
Internet & WWW Information Conferences
Selling in Cyberspace Conference
National Assn. of Symphony Orchestras
Practical & Legal Aspects of Doing Business on the Internet (conferences)
Tom attended College of the Albemarle in North Carolina after receiving an Honorable Discharge from the US Navy and serving one tour in Vietnam. Tom is an avid fisherman, woodworker, photographer and self-proclaimed 'geek' and expert tinkerer. He and his wife Lori are parents to three daughters and reside in northwest, Montana along with a herd of cats and their two dogs.
Webunet's Credentials
These days it seems that everyone you meet is a "Social Media or SEO expert". It's an easy claim to make because there are really no accredited qualifications required and anyone can declare themselves an "instant expert". The Webunet Group however, has been involved in Internet marketing since the early 90s with a focus on SEO and all things social for the past five years.
Actually you could say we wrote the books on these topics. In 1998 Macmillan published "The Complete Small Business Internet Guide" and the "SEO & Social Media Marketing" was published in 2010. We 'get it' and using our expertise to promote this directory is one of our primary objectives.
Don't buy this book!
Actually it is no longer for sale because so much has changed in the two years since it was published, and I haven't updated it yet.