Grizzly Security Integrated Services
Grizzly Security is the leading provider of integrated security services in the state of Montana. The company was founded over 35 years ago in Kalispell by former Montana Grizzly and NFL football player Greg Harris and is the largest locally owned security company in the state. Some of the security related services we provide include:
Armored Service
Protecting your investments with Honesty, Integrity and Trust are the core values and the foundation of Grizzly Security Armored Express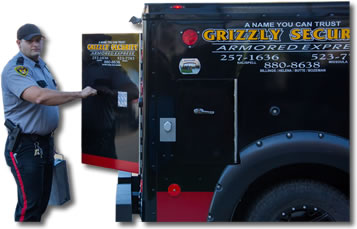 Alarm Systems for Home & Business
Our alarms division provides innovative electronic security technology which takes prevention to the next level.  http://www.grizzlyalarms.com/
Security Services
Our Security Services Division offers Responsible, Reliable and Trustworthy protection for your Business, Home and Family.
ATMs
From small business to banks and other financial institutions, our ATM Division has ATM packages tailored to your specific business needs.
Vault and Safe Deposit
Complete privacy, protection and 24 hour availability from a one-of-a-kind facility.
Delivery and Courier Service
Our Delivery and Courier Service alleviates some of you logistic needs.
Grizzly ShredEx
We provide document retention and shredding services to any business or home with Grizzly Security Shred Ex