Does your website suck?
It's simple really…they can't find it!
Take a deep breath, your website may actually be okay… but if it isn't attracting targeted traffic or generating leads – you might as well be selling magic fairy dust.  Your website sucks because not enough people see it.
We judge our websites on how well we THINK they're producing for us. In other words, if your site is generating sales, inquiries, or people tell you they found your site while searching for your products or services you will swear that your site is performing flawlessly.  Life is good and you're a digital marketing genius!
Unfortunately, this isn't the case for the vast majority of websites and when you ask their owners they'll usually say something like…"My website sucks!"
Okay, Your website sucks! How did this happen?
You spent a great deal of time and money developing your website.  People who actually see it – love it.  The problem is that not enough people see it and when you search for your products or services you can't find your website either.
It didn't used to be this way…
A hundred-billion websites ago it was easy to get traffic to virtually any website. You built it, submitted it to a couple search engines and visitors seemed to appear as if by magic.
If your website has been around for a while, you've seen your traffic slow to a trickle. If you have a new website, it may as well be invisible because it has no presence in the search engines. This is why you think your website sucks!
Blame sophisticated search engines and more competition
Today, you must do more than just tell a good story and have an acceptable presentation.  Appealing to your visitors is  only half of the equation.  The most important component is making your site search engine friendly so that you will attract visitors to see your wonderful presentation. THAT is the tricky part and if that piece is missing….your website will continue to suck!
There are only 2 ways to get visitors to your website…
Buy Traffic or Attract Traffic Organically!
You BUY traffic using pay-per-click (PPC) paid advertising or banners and impression-based ad campaigns.
You ATTRACT traffic organically using tactical onsite and off-site search engine optimization (SEO) techniques, and implementing a calculated social networking strategy.
SEO generates free traffic and it lasts virtually forever!
PPC only works until your money runs out.  Which method make more sense to you?
This doesn't mean that PPC doesn't work, it works great. PPC can jumpstart a new website and start driving traffic today, but it can be expensive. Optimizing your website to perform better in search results takes a little time and effort, but pays ongoing dividends.
SEO & Social are the 'Secret Sauce' of online marketing
Listen up, this is important… SEO is about marketing.  It's making sure that people who want to buy what you have to sell can find your website.  'Social' is the new word-of-mouth advertising.
When people talk (i.e. Like or Tweet, Re-tweet & comment), Google is listening and rewards those being talked about with better search position.  Social marketing is a tactic, not a strategy or a secret technique.
We know that people research their purchases online and listen to their friends talk about what they Like. If your website is not performing well in search results and people are not talking about you…you're missing the people who are looking for you…and that really sucks!
Search Engine Optimization, Social Media, keywords, organic search, blogging, linking… yeah, I know these terms are not part of your core business vocabulary, but they are fundamental components of a successful online marketing strategy.
Have you told Google about your website?
No?  You mean you haven't called Google's toll-free number and talked to their helpful customer service people and told them what your website was all about?
Yeah right!  Don't we wish that mega-billion-dollar search monster offered a help desk and some reasonable semblance of customer service.
Let me rephrase the question… do you think that Google knows which "search terms and phrases" people would use to find your website?
If you haven't properly instructed Google about your website and the terms that define your business, you're not reaching your market.  In other words, your website sucks.
Does Google know where you do business?
Having any more luck with that toll-free number?
Have you claimed your Google Local page, or Bing Local pages yet?
The question is, is your business global or local?
Most of us do business locally with other businesses or consumers.  Google knows this and 'Local Search' is a top priority. AND, getting strong 'local authority links' is paramount!'
Optimizing your SEO strategy to improve local search results can mean the difference of being listed on page one of Google or page 600, which would really suck.
If you are not on page one of Google, you may as well not have a website! Think about it…when you search for information, how many times do you go past page one or two?  Right, and neither does anyone else who is looking for you!
Have you been pitched by any of those "SEO experts"?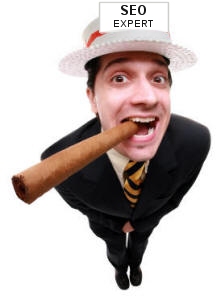 You already know that optimizing your site for search engines is a good thing to do, and I'll bet my last cigar you've been pitched by at least one SEO "expert"….or maybe one hundred.
WOW!  Those guys are everywhere now and most are extremely proud of their services.  I've seen quotes for $5,000.00 to optimize a 20 page website and many of these so-called experts didn't know what a META tag was a year ago.
My guess is that many of these 'experts' are recently unemployed because most of them sure haven't been playing in the Internet space for very long.
If you knew what to do and had the knowledge to do it yourself, you could save thousands and get your site listed on page one of Google! Let me share a secret… one of the absolute best things you can do to get Google's attention is to have a strong 'local' authority site linking to your website.

Is any of this making sense yet?
Are you starting to figure out that the reason your website sucks – isn't because it actually sucks…it's because the things that make Google pay attention to your site are not in place.
So maybe you're thinking… "What if this guy really does know what he's talking about."  Well, what would it be worth to you if…
Your site started getting new visitors every month…or every day?
Your phone rang more often from people who found you online and want more info?
Your sales increased during the worst economic recession in history?
You could slash your advertising budget?
You started making more money?
Your website didn't suck any more?
This isn't my first rodeo!
Hi, I'm Tom Heatherington, author of an Internet marketing book for small business entitled, the "SEO & Social Media Marketing Guide".  I've been in the Internet business since 1993 when I co-founded one of America's first ISPs in Dallas, Texas.
My company created websites for Frito-Lay, Virgin Records, the Texas Rangers MLB and hundreds of small businesses
We were responsible for many industry firsts like text messaging to paging devices and streaming audio
I authored one of the first Internet business books, The Complete Small Business Internet Guide, published by Macmillan and…
I have been an online marketing consultant to businesses, TV and NFL personalities since before Larry Page and Sergey Brin launched Google
Google "Tom Heatherington", you'll see that I'm the real deal.
How to make your site suck less…
Spend some time analyzing your website and implementing SEO best practices. AND, get some STRONG local links pointing to your website. This is where the Flathead Guide comes in. We offer a 'mini website' that includes your unlimited text description and photos, a slideshow of your products or services, a Google map, links to all your social sites (i.e. Facebook, Twitter, etc.) and a whole lot more.
If you want to attract more targeted traffic,
talk to more people who want to buy, and
spend less on advertising and promotion…
.
Your website SHOULD suck!
It should suck traffic from the search engines. If that isn't happening, you're doing something wrong! Do something right…add your company listing to the Flathead Guide!